Shopping the alternative
Costa del Sol
Shopping here can be very rewarding. You will find most things are cheaper here than in the UK although of course there are exceptions.
Apart from a few souvenir shops and the larger supermarkets which remain open all day most shops still observe the traditional Spanish business hours and close for a long lunch or siesta. Generally shops are open between 10am and 2pm and 5pm and 9pm. If you wish to do any serious shopping outside these hours then you need to head for one of our modern out of town malls - our shopping malls page will tell you how to find them and what facilities they include.
Many of the smaller local shops still do not accept credit cards - the local economy is very cash based - and even the larger shops and supermarkets may ask to see your passport before accepting your card, so make sure that you don't get caught out!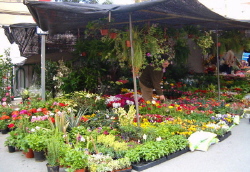 The Spanish love their markets and most towns have a regular weekly street market which are fun to wander around and always offer a few bargains. Our markets section has information on times and locations of all the local street and covered markets.
You may also want to visit the Jardin del Ingenio Garden Centre.
If you miss the tastes of home then a visit to Arkwright's in Puente Don Manuel is a must. They have a fantastic selection of British food products as well as a lovely card and gift shop.
If you fancy a trip further afield then Malaga has a large pedestrianised shopping district along with a selection of modern malls and department stores on offer. Checkout our Malaga page for more details.