Resort guide to
Torre del Mar
Overview
The surprising thing about Torre del Mar is how a coastal town of its size has gone unnoticed for so long by all except the Spanish. This becomes even more of a mystery after you do discover it and realise that a more perfect Spanish holiday resort will be hard to find.
What the Spanish have known and kept to themselves for years is that Torre del Mar is the perfect combination of working seaside town and relaxing beach resort, neither aspect seeming to affect the other.
The resort is very much tailored to the Spanish, both residents and holidaymakers, and there is plenty accommodation available either in privately owned apartments or in a selection of quality Torre del Mar Hotels.
There are a couple of "British" Pubs and for that matter boasts two Indian restaurants but that is about as British as Torre del Mar gets. So if you are looking for all of those familiar home from home "treats" that seem to have infiltrated other resorts of this size then you will be sadly disappointed. However if you are looking to sample Spanish hospitality and a real feeling of being in a Spanish resort, then read on.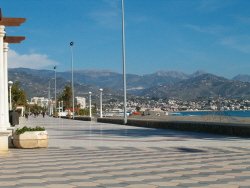 The most attractive point to Torre del Mar is its promenade Paseo Maritimo de Poniente and long wide sandy beach which seems to go on forever. Well at least as far as the neighbouring resort of Caleta de Velez 4 kms away. Torre del Mar is in a completely flat area which makes getting around very easy. Despite the town and beach sitting side by side it is well spread out and gives you the feeling of the two being separate.
Our conclusion is that Torre del Mar is the perfect marriage of all that is good about a busy Spanish town with all that is great about a sleepy beach resort. You really can please yourself and choose the pace to suit your mood.
Outside of the hectic Spanish summer season months of July and August the rest of the year in Torre del Mar remains at a gentle tick-over pace.
Despite claims that the origins of Torre del Mar go back as far as the times of the ancient Greeks no evidence of early civilsiation remains in the town.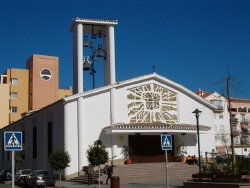 There are one or two buildings of architectural interest including the Iglesia de San Andres and a reconstruction of the town's original lighthouse.
The nearby historical town of Velez-Malaga offers more in the way of culture and sights.
For more information on sightseeing in the region please see our sightseeing page.
Activities
The beach area has a good selection of water sports available during the summer months. There is even a Nautical and Yacht Club on the beach. Also available during the summer are two open air swimming pools the latest of which was opened in 2003 and forms part of a small sports complex, which includes a squash court, a Padel Tennis court and fitness suite.
Being a flat area makes the promenade ideal for cycling and there are two cycle hire shops which open year round. Also on the promenade and available year round are a tennis court and basket ball court.
Golf is available at the nearby 18 hole Baviera golf course and course fishing is possible at Lake Viñuela situated 15 minutes by road inland.
We have some fabulous accommodation to rent adjacent to Baviera Golf Course and just 5 minutes drive from Torre del Mar, click here for more details.
Torre del Mar has a small theatre showing regular performances and there is a twelve screen cinema complex at the nearby El Ingenio shopping mall.
For more information on activities and sports in the region please see our activities and sports page.
Shopping
Torre del mar is pretty much perfect for the enthusiastic shopper. The town itself has a great selection of shops and boutiques selling everything from Aguacates (avocadoes) to Zapatos (shoes). There is also the visit of the popular weekly general market every Thursday.
However if you are in need of yet more retail therapy head for the nearby shopping mall El Ingenio to get your fix. The mall boasts in excess of one hundred outlets both big and small.
For more information on shopping in the region please see our shopping page.
Beaches
Torre del Mar has just one beach Playa de Torre del Mar which stretches for some 4 kms. It is also one of the areas widest beaches and so even at the busiest time of year there is plenty of sand to go round.
For more information on beaches in the region please see our beaches page.
Eating & Drinking
Not surprisingly for a town of this size, Torre del Mar offers a good choice of places to eat centred around the pedestrianised Paseo Larios and spreading out along the adjacent side streets and Paseo Maritimo. The emphasis is on traditional Spanish fare but there is also a good variety of different cuisines including Chinese, Indian and even a Brazilian restaurant available.
On the sea front there are a number of beach side restaurants, a couple of which are open all year serving barbecued sardines at lunch time.
Perhaps the most famous of the restaurants are the freidurias of which Torre del Mar has many. Open all year for lunch or dinner, offering the simple but delicious fare of fresh fish served fried or grilled, they are a popular choice with the locals.
Torre del Mar also offers a good selection of bars, with the nightlife mainly centred around the the bars on the Paseo Maritimo adjacent to the eastern side of Paseo Larios which don't get going much before 12 o'clock but stay open until about 5am, particularly at weekends.
For more information on food and drink from the region please see our food and drink page .
Accommodation
There is a good choice of accommodation in Torre del Mar.
For a selection of privately owned rental properties in the area please visit our Accommodation page .