Welcome to the alternative
Costa del Sol!
As Eastern Costa del Sol accommodation letting and property management specialists we provide property owners in the Axarquia region with a truly professional and comprehensive service.
*** A selection of our properties to rent in the region now have Instant Availability & On-line Confirmation. ***
Please see our Accommodation Page for more details.
For more information on the types of service we are able to offer property owners please visit our Property Management Page.
We love living and working here in the Axarquia region of the Costa del Sol and would like to share with you our detailed local knowledge of the delightful undiscovered region of Andalucia between Malaga and Nerja.
If you thought that southern Spain was just about the high-rise concrete jungle that is Torremolinos or the over-priced glitz of Marbella, then think again.
Places such as Nerja, Torrox, Torre Del Mar, and Velez-Malaga may not be familiar to most but then it could be said that this is one of the the area's most attractive features.
Please take some time to read through our destination guides which contain loads of useful information about these places and our accommodation section has details of apartments, villas and houses for rent in the area.
With two new sections of the autovia (motorway) recently opened it has now become easier to reach some of this region's less visited areas.
So when you are planning your next visit to southern Spain, may we suggest that you consider a different approach. Instead of following the convoy of tour buses out of the airport, try turning left (east) and come to the Axarquia for a truly Spanish Costa del Sol experience.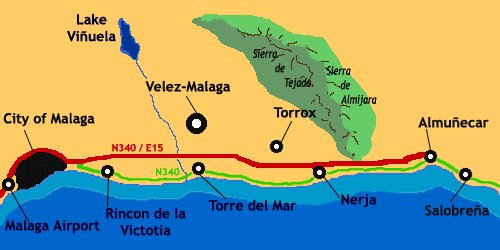 Regular news updates and features on developments in the Axarquia region of the Costa del Sol.
Do you own a rental property in the Axarquia that you only use part of the year? Freewayspain.com property management and letting services can help you with all your requirements.
Comprehensive travel guide gives you all the the information you need to decide where to stay in eastern Andalucia's beautiful Axarquia region in southern Spain.
A Guide to the Andalucian villageof Alcaucin
A comprehensive guide to the white village of Frigiliana in the Axqarquia region of the Costa del Sol
A comprehensive travel guide to Malaga the capital city of the Costa del Sol Spain
A comprehensive travel guide to the town and beach resort of Nerja in the Axarquia region of Andalucia, southern Spain.
Comprehensive travel guide to the coastal resort of Rincon de la Victoria in the beautiful Axqarquia region of the Costa del Sol in Andalucia Spain
A comprehensive travel guide to the beach resort of Torre del Mar in the Axarquia region of Andalucia, southern Spain.
A comprehensive travel guide to Torrox village and beach resort in the Axarquia region of Andalucia, southern Spain
A comprehensive travel guide to the town of Velez-Malaga in the Axarquia region of Andalucia, southern Spain
Sightseeing in the Axarquia region of Andalucia, southern Spain - an opportunity to explore the fascinating stories from the past that shape todays Spanish culture.
Information on activities & sports including golf, fishing, diving and walking along with ideas for fun family days out in Andalucia, southern Spain.
Aqua Velis Water Park, the largest water park in the Axaquia region of the Costa del Sol
Keep up to date with events in the Axarquia Costa del Sol News
Find out where the best beaches in the beautiful Axarquia region of southern Spain are and what they have to offer.
A useful resource page for Spain all things Spanish including travel, accommodation & car hire
Sightseeing, flamenco, fiestas, theatre - find out about the culture of the Axarquia and make the most of your holiday in Andalucia, southern Spain.
A comprehensive guide to the Fiestas and feast day celebrations in the Axarquia region of Andalucia, southern Spain.
Information on restaurants and bars, regional food specialities and recipies for holidaymakers in Andalucia's Axarquia region of southern Spain
Car hire, public transport, taxi ranks - all you need to know about getting around the Axarquia region of Andalucia, southern Spain.
How to find the best value flights to Malaga Airport for the Costa del Sol including info on UK airport parking and hotels, transport options to UK airports, and travel insurance.
A guide to the Golf courses on the alternative Costa del Sol, in the Axarquia region of Andalucia, southern Spain
Jardin del Ingenio Garden Centre, Torre del Mar ,Velez Malaga
Ideas and resources to help you learn Spanish
Nerja Caves the largest underground cave system in Spain
Nerja Donkey Sanctuary, Nerja, Costa del Sol
A guide to companies and tradesmen providing a range of services to property owners in the Axarquia region of the Costa del Sol
Our Property Buyers Guide can help you if you are looking to purchace a property in the alternative Costa del Sol
A guide for landlords & tenants regarding property law in spain for rental contracts
A guide for landlords & tenants regarding property law in spain for rental contracts
Regional information Spain resources
Guide to the Semana Santa Museum in Velez-Malaga, Andalucia, Spain
Street markets, malls and downtown shops are all covered in this essential guide to shopping for visitors to Andalucia's Axarquia region in southern Spain.
Property in Spain - a real estate resource
Spanish Speaking World, South & Central America resources
All you need to know about getting to and around the Axarquia region of southern Spain - flights, car hire, public transport, health care etc. are all included in our travel advice guide
Somos una empresa nueva de servicios de alquiler y administracion de propiedades de la region andaluza de la Axarquia.
Si está buscando alojamiento para sus vacaciones en la Axarquía, Andalucía, freewayspain.com tiene la solución para usted.
General Real Estate Resourses Worldwide
Links to useful travel services for travellers to Malaga airport, Spain.
More useful links to travel services - page 2
More useful links to travel services - page 3
More useful links to travel services - page 4
More useful links to travel services - page 5
More useful links to travel services - page 6
More useful links to travel services - page 7
More useful links to travel services - page 8
More useful links to travel services - page 9
More useful links to travel services - page 10
More useful links to travel services - page 11
More useful links to travel services - page 12
More useful links to travel services - page 13
More useful links to travel services - page 14
More useful links to travel services - page 16
More useful links to travel services - page 18
More useful links to travel services - page 19
Add your local business or Spanish themed web site to our web site directory.
How to contact the property management and letting specialists for the alternative Costa del Sol
Skype - the revolutionary way for people keep in touch via their computer for a fraction of the cost of conventional telephone calls